This post may contain affiliate links. If you click on a link and make a purchase, we may be compensated.
<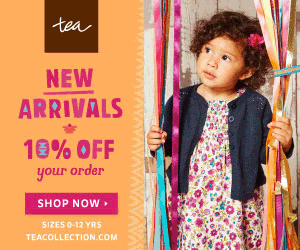 Tea Collection Introduces New Sizes and Styles and a chance to win a $500.00 credit
For the first time ever, Tea Collection introduces sizes 2T, 3T and 4T. The same great looks you love for your older kids made especially to fit younger, smaller bodies. The new sizes have more room for diapers and super soft shirts for babies tender bellies. See samples below.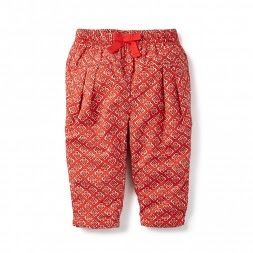 To shop now click on a link below:
In addition to the new sizes, enter the
Little Citizens Love Tea
contest for a
chance to
win a $500.00 Tea Collection credit.
Just submit a picture of your child wearing styles from Tea Collection's India collection for your chance to win. For more information click below.
**********************************************************************************
Registration is open now for Kidzsignments Childrens Consignment Sale
What: Kidzsignments Children's Consignment Sale
Where:
New Jersey Expo Center
97 Sunfield Avenue
Edison, NJ
When:
March 12-14
If you have a lot of your kids old clothes, toys etc. just lying around taking up space, and you don't know what to do with them, this is the perfect opportunity for you. Don't just throw it all out, make some money off the things your kids don't want, need or fit into anymore by selling them at one of Kidzsignments childrens consignment events.
You 1) Set your prices
2) Enter your information on-line
2) Prepare and tag your items
3) Drop off your items
They 1) Sell Your items
2) Mail you your check
It is as simple as that. In fact, it can be even simpler because there is a company that will prepare and drop-off your items for a fee if you want. For more about that, for more information in general or to sign up to be a consignor, go to
http://www.kidzsignments.com/
.
Sign up using the code
SAYSMOM
between now and February 28, 2015, and you will get a
$5.00 Kidz Cash card
at dropoff to spend at the sale.
If you just want to shop at the sale or if you are interested in Kidzsignments Flemington sale we will be providing more information about that at a later date.
********************************************************************************
Overnight and Day Trips Available Presidents Week
What: Coco Key Water Resort and the Hotel ML
Where: 915 Rte 73
Mount Laurel, New Jersey
When: February 13 - February 22
Leave winter behind and come spend some time in the tropics at this fun indoor water park.

Overnight packages start at $239.00.
Day passes $27.99 per person or $24.00 per person for 4 or more
**********************************************************************************
This week at iPlay America
110 Schank Road
Freehold, NJ
Thursday February 19 8:00 PM Key Dueling Pianos
This is a fast-paced, fun-filled interactive show where everyone is invited to sing along, and you may even be invited to go up on stage.
Saturday February 21 9:00 PM Tommy Baz and Bullzeye
*********************************************************************************
Where: The Players Theater
115 MacDougal Street
New York, New York
When: February 22- April 19
Who: All ages
The Player's Theater's version of the classic tale with music by Michael Sgouros and book and lyrics by Brenda Bell returns for a two month run.
Also at the Player's Theatre
What: Twelfth Night
When:

February 13 - March 7
Shakespeare's beloved comedy, it's a love story, it's a comedy of errors, it's a tale of mistaken identity all in one. This production is part of Shakespeare Off-Broadway.
March Family Events at the Dimenna Children's History Museum
What: The Dimenna's Childen's History Museum
Where: The New York Historical Society
170 Central Park West (at 77th St)
When: March, 2015
Reading Into History: One Crazy Summer by Rita Williams-Garcia
Sunday, March 1, 3 pm
In honor of African-American History Month, families will discuss how the 1960s Civil Rights Movement transformed life in the American West and South through the book One Crazy Summer. Author Rita Williams Garcia will be present to answer questions about the book, which follows 11-year-old Delphine and her family on a transformational journey from Brooklyn to Oakland in the Summer of 1968. Families may also visit the related exhibition Freedom Journey 1965: Photographs of the Selma to Montgomery March by Stephen Somerstein. Ages 9-12. Free with Museum admission.
This program is supported by a grant from the New York Council for the Humanities. Any views, findings, conclusions, or recommendations expressed in this program do not necessarily represent those of the National Endowment for the Humanities.
Audubon's Aviary: Bird Paper Planes
Saturday, March 7, 1 pm
Fold your own paper, bird plane and fly it at our target wall of clouds. Which bird plane will you choose? A sparrow, cardinal, or parrot? Believe it or not, these birds can all be spotted around New York City! All ages. Free with Museum admission.
Audubon's Aviary: Gallery Sketching
Sunday, March 8,, 2 pm
Meet artist, explorer, and naturalist John James Audubon through our newest exhibition Audubon's Aviary: The Final Flight! Join this educator-led family sketching tour to learn, sketch, and talk about Audubon's beautiful watercolors of birds. Ages 5 and up. Free with Museum admission.
Ancient Chinese Arts Today: Fan Dancing
Sunday, March 15, 2 pm
Chinese fan dancing traces its roots back 2,000 years to the Han Dynasty in China, and the tradition continues today. During this workshop, families will discover how movements evoke feelings, create images, and tell stories through learning group fan dance. The lesson is taught by a professional dancer from the New York Chinese Cultural Center and will incorporate some simple Chinese vocabulary. Ages 5 and up. Tickets: $15 (members $10); includes admission to the museum and special exhibition Chinese American: Exclusion/Inclusion.
At the Kids' Table with Sarah Lohman: Chinese Food, American Story
Saturday, March 21, 2 pm
Similarly to other immigrant groups, for the Chinese food created a pathway to acceptance in the United States. During this program, families will explore the groundbreaking exhibition Chinese American: Exclusion/Inclusion and cook some of the first foods that Chinese immigrants introduced to Americans. Participants will cook the first popular Chinese take-out dish, chop suey, from a century old recipe. They will also prepare and eat tasty dumplings from scratch. Ages 8 and up. Tickets: $16 per person ($10 per Member).
ABOUT SARAH LOHMAN
Sarah Lohman is an "historical gastronomist" featured on William Grimes' show Appetite City (NYC life, channel 25). She is currently an educator at the Lower East Side Tenement Museum and develops food-based programs for cultural institutions around New York City. Visit her blog on the history of food at
www.fourpoundsflour.com
Camp History
Tuesday, March 24 – Friday, March 27, 9 am – 4 pm
What was life like in Colonial New York? Take a step back in time to the diverse, hectic, war-torn, disease-ridden, and...stinky place that was New York City under Dutch and British rule. During this four-day history camp at the New-York Historical Society, campers will travel back in time to explore daily life in this bygone era. Led by educators, librarians, conservators, and curators, campers will go behind the scenes to learn how museum exhibitions are made; see fascinating artifacts, documents and paintings that are rarely on view to the public; and play fun colonial games! At the end of the week, campers will mount their very own pop-up exhibition on New York in the 17th and 18th centuries. For current 6th, 7th, and 8th graders only; $500 per camper ($400 per Member camper). For more information, or to register your child for any of this year's camps, please
emailcamphistory@nyhistory.org
or call
646-293-9922
.
ONGOING PROGRAMS

Little New-Yorkers
Tuesdays and Fridays, 3:30 pm
Held in the cozy Barbara K. Lipman Children's History Library, this program introduces New York and American history to the littlest New Yorkers with age-appropriate themes and engaging hands-on activities. Ages 3-5. Free with Museum admission.
March 3 and 6: The Snowy Day by Ezra Jack Keats
We're beginning March by saying good-bye to these freezing, winter months! We'll follow one little boy on his snowy adventure and then make paper snowflakes of our own.
March 10 and 13: The Tale of Pale Male by Jeanette Winter
This week, children are encouraged to look up! Pale Male is a very special New Yorker. He is a hawk who lives among the city's skyscrapers. Children will then make a mini bird's nest.
March 17 and 20: Snow Rabbit by Il Sung Na
This week we're welcoming the new season with the symbol of spring: the rabbit. Kids will learn about how animals transition from winter to spring and then make bunny bracelets.
March 24 and 27: A Walk in New York by Salvatore Rubbino
Let's remind ourselves of the wonderful parts of this amazing city with a little boy and his dad, as they spend the day visiting all the tourist attractions of New York. Children will then make their own pop-up New York City.
March 31 and April 3: When Everyone Wore a Hat by William Steig
This week is all about hats! We'll travel back in time to see how one little boy remembers the era when everyone wore hats. Kids will then make their own fancy hats to wear home.
Cross-Stitch Circle
Thursdays, 3:30 pm
Drop in to try your skills at one of the oldest forms of embroidery in the world. Beginning cross-stitchers and younger children will learn the basic stitch and create a bookmark with their new skill. More seasoned stitchers and older children and adults can continue working on their bookmark or branch into more complicated designs—make a handcrafted gift for someone! Ages 7 and up. Free with Museum admission.

Macy's Sunday Story Time
Sundays, 11:30 am
In honor of the exhibition Audubon's Aviary: The Final Flight (Part III of The Complete Flock), Macy's Sunday Story Time at the New-York Historical Society in March will be all about birds!

March 1: City Hawk: The Story of Pale Male by Meghan McCarthy
Have you ever heard of the red-tailed hawk that made New York City its home? Join us for Sunday Story Time and hear the true story of Pale Male!

March 8: Don't Let the Pigeon Drive the Bus! by Mo Willems
Come hear the hilarious pleas of a silly pigeon who desperately wants to drive a bus!

March 15: I Am Dodo: Not a True Story by Kae Nishimura
Dodo birds might be extinct in real life, but not in this book! This is the not-true story of a very special Dodo bird who moves to New York City and makes an unexpected friend.

March 22: When Blue Met Egg by Lindsay Ward
Meet Blue, a kindhearted bird who comes across a most peculiar "egg" one winter's day. Blue and Egg spend all winter together as the best of friends, but something unexpected happens when spring arrives.

March 29: Where Are You, Little Zack? by Judith Ross Enderle Stephanie Gordon Tessler and illustrated by Brian Floca
Brick, Brack, and Thackery Quack search high and low in New York City for their fourth duck brother Little Zack. Can you help them find him?


Tune in tomorrow for another Talking Topic.